Oregon's governor John Kitzhaber is a great guy. He unites an Oregon traditionally divided between metro (liberal) and rural (conservative) areas. He has been a cowboy-hat wearing rural doctor, yet he's a Birkenstock-wearing liberal who has created initiatives for forest health.
While visiting Helena this weekend though, my desire to be a Montana resident skyrocketed due to Montana governor Brian Schweitzer.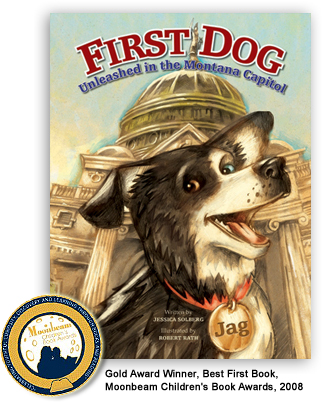 What's Schweitzer's secret weapon that threatens to steal me away from Oregon, you ask? A spunky little border collie named Jag.
On press releases Jag is described as the Governor's "constant companion and special assistant." I asked Schweitzer's office if that means he's an assistance dog—I was told no. According to the Helena residents I met, Jag goes with Governor Schweitzer almost everywhere. He helps the governor sign bills. Jag has an email address (jag@mt.gov), which means he must also have some administrative assistance translating and typing responses (no thumbs!).
Jag is even the subject of a children's book: First Dog: Unleashed in the Montana Capitol. In the great tradition of dog biographies such as Millie's Book, Seaman's Journal, and even Virginia Woolf's Flush: A Biography (about Elizabeth Barrett Browning's dog), the book is great fun and features strikingly real art, down to Jag's two-colored eyes!
Over at the Montana Historical Society, just a few blocks from the Governor's mansion, word is that Jag can sometimes be a little protective of the governor—true to his border collie nature. When the Governor came to an event at MHS, Jag couldn't go into the exhibit area and was not terribly happy about it.
Schweitzer's office has a postcard sporting a photo of him with Jag, for mega-fans like me. Call during normal business hours—they'll send you one! They even rubber-stamped Jag's pawprint on the back of mine. If I had time to return to Helena in the next few weeks before returning home to Portland, I think my goal would be to meet Jag.
Border collies aren't my favorite breed, but they're a short step away from my beloved Australian shepherds. The two breeds share many physical and behavioral characteristics, from sporting two-color eyes and a huge smile to the "velcro dog" phenomenon. (That's what Aussie owners call it when our dog won't leave our side.) Jag seems like he is a great little dog.
Kitz, unless you're planning to get an Australian shepherd, Schweitzer wins this round—paws down.